MIM is a new technology of near net forming of metal parts by introducing the modern plastic injection molding technology into the field of powder metallurgy. It is a high and new technology developed very rapidly in the field of powder metallurgy and industry in recent years. The process steps of MIM are as follows: first, select the metal powder conforming to the requirements of MIM and the organic binder in a certain temperature condition and mix them into the uniform feed. Then the forming billets are injected into the mold cavity by the injection molding machine in the heating and plasticizing state after the granulation, and then the chemical or solvent extraction method is used. The final product was obtained by Sintering Densification.


MIM product features:
1. The degree of freedom of parts geometry is high. It can produce metal parts with complex shape just like plastic products.
2, MIM product density uniformity, good finish, the surface roughness can reach Ra 0.80 to 1.6 m, and the weight range is 0.1 to 200g. The dimension accuracy is high (+ 0.1% + 0.3%), and there is no need for subsequent processing.
3. Wide range of application materials, wide application fields, high utilization ratio of raw materials, high production automation, simple process and continuous mass production.
4, the product quality is stable, reliable performance, the relative density of products can reach 95% to 99%, and can be carburized, quenching, tempering and other heat treatment. The product has high mechanical properties, good hardness and elongation, good abrasion resistance, fatigue resistance and uniform structure.
It is widely believed that the development of MIM technology will lead to a revolution in parts forming and processing technology, which is known as "the hottest parts forming technology in twenty-first Century".

MIM技术优势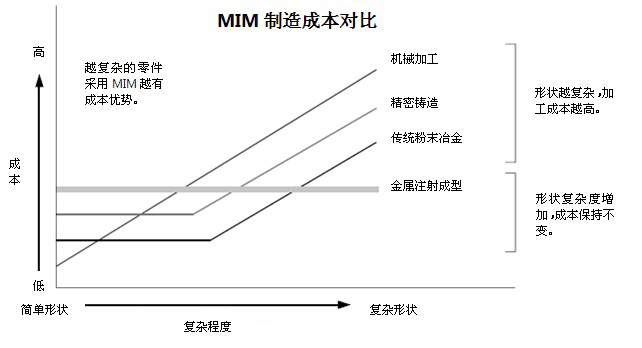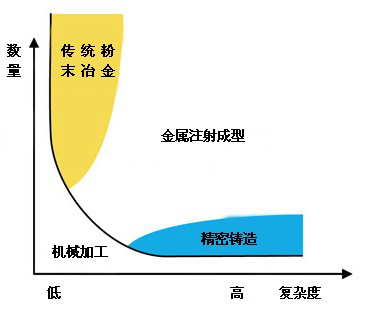 | | | | | |
| --- | --- | --- | --- | --- |
| 参数 | MIM | 传统PM | 机械加工 | 精密铸造 |
| 相对密度 | 98% | 98% | 100% | 98% |
| 拉伸强度 | 高 | 低 | 高 | 高 |
| 延 伸 率 | 高 | 低 | 高 | 高 |
| 硬 度 | 高 | 低 | 高 | 高 |
| 复杂程度 | 高 | 低 | 高 | 中 |
| 表面粗糙度 | 高 | 中 | 高 | 中 |
| 量产可行性 | 高 | 高 | 低 | 中 |
| 材料范围 | 高 | 高 | 高 | 中-高 |
| 成 本 | 中 | 低 | 高 | 中 |
Comparison of MIM with traditional powder metallurgy
MIM can create complex shape products and avoid more two machining operations.
MIM the product has high density, good corrosion resistance, high strength and good ductility.
MIM can combine 2 or more PM products into a MIM product, saving materials and processes.


Comparison of MIM and machining
MIM design can save material and reduce weight.
MIM can repeatedly crush the injection material after injection, without affecting the product performance and high utilization rate of materials.
MIM forms complex products by molding at one time to avoid multiprocessing.
MIM can make complex shape parts that are difficult to machine.


Comparison of MIM and precision casting
MIM can make thin wall products, the thinnest can be 0.2mm.
The surface roughness of MIM products is better.
The MIM is more suitable for making thin blind holes and through holes.
MIM greatly reduced the workload of machining two times.
MIM can manufacture small parts quickly and in large quantities and at low cost.
MIM材料范围
常用MIM材料应用领域:
| | | |
| --- | --- | --- |
| 材料体系 | 合金牌号、成分 | 应用领域 |
| 低合金钢 | Fe-2Ni, Fe-8Ni | 汽车、机械等行业的各种结构件 |
| 不锈钢 | 316L ,17-4PH | 医疗器械、钟表零件 |
| 硬质合金 | WC-Co | 各种刀具、钟表、手表 |
| 钨合金 | W-Ni-Fe, W-Ni-Cu, W-Cu | 军工业、通讯、日用品 |
| 钛合金 | Ti,Ti-6Al-4V | 医疗、军工结构件 |
| 磁性材料 | Fe,Fe14 Nd2 B,SmCo5 | 各种磁性能部件 |
几种典型MIM材料的性能:



材料




密度




硬度




拉伸强度




伸长率




g/cm3




洛氏




MPa




%




铁基合金




MIM-2200(烧结态)




7.65




45HRB




290




40




MIM-2700(烧结态)




7.65




69HRB




440




26

MIM-4605(烧结态)




7.62




62HRB




415

15

MIM-4605(淬、回火)




7.62




48HRC




1655

2

不锈钢




MIM - 316L (烧结态)




7.92




67HB




520

50

MIM- 17-4PH (烧结态)




7.5

27HRC




900

6

MIM- 17-4PH (热处理态)




7.5

40HRC




1185

6

MIM - 430L (烧结态)




7.5

65HRB




415

25

钨合金




95%W-Ni-Fe




18.1




30

960

25

97%W-Ni-Fe




18.5




33

940

15

硬质合金




YG8X




14.9

HRA90




弯曲强度 2300






精细陶瓷




Al2O3




3.98

HRA92




弯曲强度 530







MIM工艺流程